TRANSFORM YOUR BODY, YOUR MIND, AND YOUR WORKOUTS FOREVER WITH THE
PROVEN INSIDER TRAINING SECRETS
PROVEN INSIDER TRAINING SECRETS


THE DEFRANCO INSIDER IS THE SINGLE MOST EFFECTIVE SITE FOR YOUR SUCCESS IN AND OUT OF THE GYM!
DISCOVER THE BEHIND-THE-SCENES TRAINING SECRETS THAT HAVE LANDED
EVEN THE MOST NOVICE ATHLETES ON TOP WHILE JOINING A COMMUNITY
DEDICATED TO HELPING YOU UNLOCK YOUR HIDDEN STRENGTH,
MUSCLE-BUILDING & PERFORMANCE POTENTIAL!
I still remember it like it was yesterday…
I opened up my first "gym", aka, a 500 square foot storage closet – with a dream of growing my tiny location into a world-renowned facility that turned every athlete and lifter that walked through my door into an unstoppable force.
I quickly learned that if I wanted to help every single person who walked into my gym change their life, I needed to put my clients first and be the absolute best coach I could be.
You see, every client and athlete that came into the gym was at a crossroads. They were training hard and giving it their all but they couldn't make ANY progress. I saw the frustration in their eyes and how much they wanted to excel and take their lives to another level – and it crushed me! I made it my mission to not only eliminate their fears and help them get stronger, but to learn as much as I could about building strength, gaining muscle mass, and improving athletic performance – and do it in the fastest, most effective way possible.
UNBELIEVABLE RESULTS WITH
PROVEN TRAINING PROGRAM
The 1000's of high school, college, and pro athletes I have trained over the past 18 years has given me the knowledge to help you immediately get better in the gym and reach every goal you set for yourself. Through trial-and-error and learning the science of training, I have developed a proven training model that works – big time!
And, here is the really cool part. While I was training clients and athletes day-in-and-day-out, something special happened – we became a family.
The truth is, I've always wanted to expand the reach of my program, but not lose that 'family atmosphere.' So, I had to wait for the right moment and find the right partner.
I teamed up with my good friend, Jim "Smitty" Smith, and together we have built something unparalleled. We have spent the last year building the DeFranco Insider based on YOUR feedback.
It has developed into THE home base and the community for anyone looking to get better at every aspect of training and life.
In the DeFranco Insider, you will learn about Strength… Speed… Flexibility… Hypertrophy… Injury prevention… You name it; we've researched it and implemented it with athletes, lifters and Average Joe's from across the globe. Now YOU will have this precious information at your fingertips and be able to use it immediately in the gym.
AN ALL ACCESS PASS FOR ALL OF THE PROVEN
INSIDER PROGRAMS AND WORKOUTS!
With unlimited access to the premium programs, workouts, warm-ups, exercise instruction, and seminar footage, the DeFranco Insider is the only site you'll ever need!
Want to transform your body? Build more muscle mass? Get stronger? Get faster and more explosive? You will be able to stream videos from the massive Insider exercise index and access the premium workout library for programs such as SB911, Westside for Skinny Bastards, Goliath, Stealth, Shock & Awe, and the never-before-seen Insider Specialization Programs (TM) – anytime and anywhere.
CPPS WORKOUTS OF THE MONTH
Each month we will post a brand new, detailed workout with exclusive video footage! These are workouts that are reserved for our clients only and will NEVER be publicly published! But as a DeFranco Insider you will get every warm-up, set, rep, rest interval, percentage and theory behind the legendary workouts that have helped build some of the best athletes and physiques in the world!
Having access to these workouts is the next best thing to actually being right here inside DeFranco's Gym, training side by side with us. You will feel confident as you walk into your gym with an intelligently designed workout that you can follow step-by-step.
We have already filmed workouts that focus on strength, hypertrophy, speed, power, recovery and
mobility, just to name a few – and they're all ready to be posted for our "insiders" to see. So regardless of your goals, we promise you will never be bored or stuck in a rut with your workouts again!
PRIVATE MEMBERS-ONLY
FACEBOOK GROUP
Become part of the best fitness community online when you join the interactive private
members-only FB group with lifters, coaches, athletes, and trainers from all over the world! You can post your training questions, ask about the best supplements, or check in with your progress on any of the exclusive premium workout programs only available to the Insiders. You will never have to waste your time searching for training answers ever again.
And, don't forget about the POWER Hour – our weekly live Q/A where you get to talk 1:1 with Smitty and Joe D. to get your personal questions answered. It happens live right in the FB group every Tuesday night at 9pm EST.
In the Facebook group is where you'll will get updated and notified immediately on all new content posted for the week. You are not alone anymore… You now have an army of knowledgeable experts from all over the world ready to help you achieve every goal you set for yourself!
DEFRANCO'S (NEVER-BEFORE-SEEN)
PREMIUM WORKOUTS
Although I have given away a lot of free information on my website over the years, I've never given the specifics of an athlete's training log. This information will continue to be kept private… I will never post anyone's personal information or workout on a public forum/website.
But because I feel the DeFranco Insider community is going to be an extremely professional and positive environment, I, along with my coaches, will be posting actual training logs of our high school, college and professional clients.
This will enable DeFranco Insider members to see first-hand the training methods we use with every class of athlete that enters my gym. You will learn how to progress anyone from start to finish… and beyond.
The programs I have designed for people like Brian Cushing, Miles Austin, Triple H and Stephanie McMahon (just to name a few) have become somewhat legendary… and I've finally decided that now is the time to share this information with the passionate, like-minded DeFranco Insider family.
The DeFranco Insider will be the home of the most comprehensive (and innovative) video library of exercises on the internet. You will never be bored or run out of exercise ideas again!
Besides having access to a variety of exercises that will last you a lifetime – you will also have a "one-stop-shop" with regards to exercise technique. Your days of searching YouTube videos in the hopes of learning how to properly perform an exercise are over! You now have a TRUSTED resource to help you master any and every lift, stretch, sprint, jump or throw known to mankind! This Exercise Index is so thorough; you will NEVER have to search elsewhere for training tutorials again.
And if for some reason you can't find the exercise you're looking for in our Exercise Index? No Problem! Just post on the Forum whatever you would like demonstrated and we'll have it up within days!! That's right… the already MASSIVE Exercise Index will be updated weekly… forever!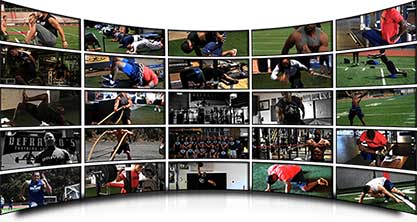 CONTESTS, CHALLENGES, AND
GIVEAWAYS
One of the things we are committed to is keeping all DeFranco Insider members motivated towards
reaching their goals…and we want everyone to have fun in the process! To accomplish this, we will be running monthly
contests and challenges that will consistently have you in the best shape of your life.
Because we want to share this with as many people (who share our passion) as we can – without breaking anybody's wallet – and we're so excited to share this amazing opportunity with you, we made it easy to sign-up and become a member today.
AND WE WILL SEE YOU ON THE INSIDE!

Results-Driven
Workout Programs & Courses

Unlimited Online Access
24/7/365

No DVD's
Required

Best Online
FB Community

Weekly
Live Q/A's
JOIN THE
DEFRANCO INSIDER
TEAM TODAY!
The DEFRANCO INSIDER membership grants you access to the exclusive premium
workouts, training programs, videos, members-only forum, and all upcoming
members-only bonuses.
Reoccuring Payment Every Month
Pay only $19.95 today to join the Team!
When you become a member of the DeFranco
Insider, you will immediately gain access to:
Exclusive Premium Workouts
Workout of the Months
Specialization Courses
Private Facebook Group
Massive Exercise Database
Members – Only Contests
Pay only $147 / year to join the Team!
When you become a member of the DeFranco
Insider, you will immediately gain access to:
Exclusive Premium Workouts
Workout of the Months
Specialization Courses
Private Facebook Group
Massive Exercise Database
Members – Only Contests
$147.00 / 1 Payment Each Year
Pay only $297 once to join the Team!
When you become a member of the DeFranco
Insider, you will immediately gain access to:
Exclusive Premium Workouts
Workout of the Months
Specialization Courses
Private Facebook Group
Massive Exercise Database
Members – Only Contests